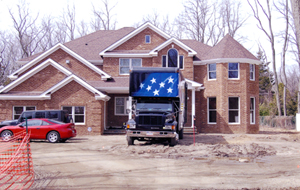 Paladin is licensed and insured with the Department of Transportation and provides a summary of information for shippers of household goods booklet. Movers are required by the D.O.T. to provide you with the booklet that will give, you information that will keep you from making mistakes that could result in the loss of your time and money.
We can provide you with:
Professional Packing and Unpacking Services
Expert Piano Moving Services
Take-apart Service
Trained Service Technicians
Free Delivery of Packing Materials
Here's how to judge a moving company:
There are many movers to choose from in the industry. It's very important to do some research to insure you had the best possible experience on your moving day.
Let's be honest: Moving isn't fun. The whole process can be overwhelming, including:
Purchasing a new home
Packing up the old home
Hiring lawyers
Paying bankers and closing fees
Working with engineers
Competing huge amounts of paperwork
Dealing with unexpected surprises
So, to minimize potential problems with the move itself, make sure your moving company is licensed and insured with the Department of Transportation, and provides you with the booklet described above.
Remember: Anyone can rent a truck and call themselves a moving company. If they're not licensed and insured, stay away. Otherwise, you might be sorry!
The best way to choose a moving company is by word of mouth. When a moving company is recommended to you, you can be sure the person who has recommended them had a good experience. While price is obviously an important factor, do not shop by price alone. Uncommonly cheap service often results in damaged property.
Moving Day can be the best or worst part of the whole moving adventure. If you choose the wrong moving company, it could be a nightmare.
If you use Paladin Moving Company, you can set your mind at ease and focus on the many other things moving entails. Our customers will tell you the same thing. Nearly all our new clients are recommended to us by our past clients. Our customers have kept us in business for over 45 years. We thank them for their loyalty and support, and look forward to moving you if you need a moving company yourself.